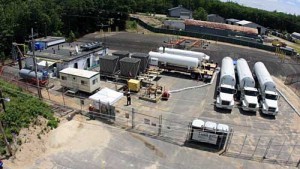 Since we first launched our LNG Portable Pipeline division in 1969, we have completed 700 projects ranging from large-scale, long-term projects to short-term emergency requirements. You can rely on Transgas to deliver and maintain the supply of natural gas to your customers for your emergency or planned pipeline needs.
The LNG Portable Pipeline service utilizes our fleet of portable vaporizers and our fleet of LNG transport trailers to quickly and safely deliver a natural gas supply for several hours or several months. For temporary gas supply for industrial projects, please see LNG Industrial Conversion Solutions.
Use LNG Portable Pipeline for:
Pipeline Construction, Repair, or Maintenance
Integrity Testing and Internal Inspections
Emergency Pipeline Outages or Interruptions
Routing Maintenance
Emergency Peak Shaving
What Equipment is Available?
Ambient Vaporizers
Heated Vaporizers
LNG Cryogenic Tankers (11,600 – 13,700 gallon capacity)
For level of experience, range of equipment and track record, Transgas truly has no equal in the portable pipeline business.
For inquiries please contact our Sales Department by phone at (978) 856-2903 or by email.