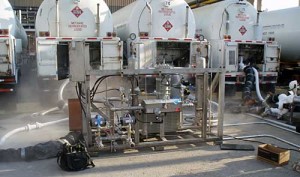 Liquefied Natural Gas (LNG) has become one of the least expensive transportable fuels available today – in part due to the increase in the U.S. natural gas supply. With the continued high cost of gasoline and oil, industries nationwide are looking to LNG as a viable, dependable, less costly and environmentally friendly fuel alternative.
Transgas is a pioneer in the LNG industry with over 40 years of LNG experience. We have proudly teamed up with industry leaders to provide safe, cost effective, turnkey LNG fuel solutions to industrial consumers of propane, diesel and oil. We are proud to help industrial customers reduce fuel and operational costs by converting to LNG. Our team provides the industry experience, resources, and commitment to safety to ensure your project's success.
Our team offers the following services:
Permitting
Design
Engineering
Construction
Operation
Financing
For inquiries please contact our Sales Department by phone at (978) 856-2903 or by email.