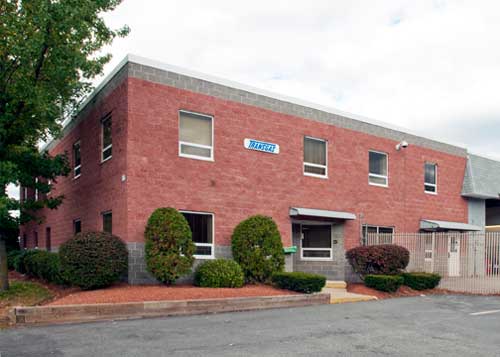 The first truck-load of LNG was delivered in December 1968 when a small ship from Algeria brought the very first cargo of LNG imported into the U.S. to Boston Harbor. Transgas started hauling Liquefied Natural Gas as a division of Gas Incorporated as an unregulated sister company to the regulated gas utilities Lowell Gas Company and Cape Cod Gas Company. Since there was no LNG ship receiving facility anywhere in the U.S. at the time, the ship was left at anchor in Boston Harbor.
The process was nothing like the streamlined process we use today. Six LNG trailers were put on a barge and "lightered" the LNG from the ship to a pier in South Boston. From there it was transferred to other LNG trailers on the pier which then transported over to Boston Gas's recently completed "Rainbow" tank at Commercial Point in Dorchester. As many barge lightering trips were made as were needed to unload the ship, with all the LNG hauled from the South Boston pier to the Commercial Point tank.
In 1969, Lowell Gas Company's liquefaction plant and LNG tank in Tewksbury were completed and Cape God Gas built the country's first "shop-fabricated" LNG peak-shaving satellite facility in South Yarmouth, giving rise to the first routine LNG trucking in the U.S. from a liquefaction plant to a peak-shaving satellite.
As the technology matured , Gas Inc. and Lowell Gas teamed up to build plants, sell the needed LNG and truck it in. This full-service vertically-integrated pioneering initiative became quite successful, and then in 1970 Gas Inc. was the first company in the country to convert an over-the-road "big rig" tractor for an 18 wheeler tanker rig to run on LNG instead of diesel. It dramatically demonstrated its capability when it hauled a full load of LNG from MIT's campus in Cambridge to CalTech's campus in Pasadena and back. The LNG was used to supply LNG to five LNG- powered cars that had entered the collegiate Clean Air Car Race of 1970 organized and sponsored by MIT and CalTech. The feat of driving an LNG-powered 18 wheeler tractor-trailer rig across the country and back has not been duplicated since 1970.
From 1968 to 1978, Gas Inc.'s trailer fleet became the largest in the country. Colonial sold the retail propane business and Gas Incorporated name to Petrolane and the LNG division was reformed as a new Colonial subsidiary, Transgas. A year later, Transgas stopped building new small shop-fabricated LNG satellites due to difficult new federal siting regulations. As a result, Transgas went on to dominate the LNG trucking and LNG portable vaporization businesses and became the leader in promoting safety standards for LNG trucking even more stringent than those established in federal regulations. In 1998 a study by a Paris headquartered international group for LNG import terminals determined that Transgas was the largest LNG trucking company in the world at that time.
The changes and development at Transgas and in the LNG industry would have been impossible to predict when we began. We can't predict how it will develop in the next 50 years. We will maintain the same dedication to quality, technology, and service that has brought us to this point and look forward to an exciting future for Transgas and its customers.